What is "EDDIO"?
At the time when company established, Akira Saiki(Managing director, technical general manager(of the time)) has found the English word of "Eddy Current" while he was investigating foreign document in order to repair the foreign made eddy current tester. He suggested the reading of EDDIO(Edhio) in Japanese from Eddy (Edhi) of eddy current (English) and registered it as trademark. Later, he registered English word of "EDDIO" as trademark too.
First eddy current tester ever made in Japan FE-1Type
Around 1955, before company founded, founder Tsukasa Hara and Akira Saiki was uniquely produced it with consideration for easiness of switching flaw detection frequency, by referring Eddy current tester STRACH GRAPH made by French company LEPGA. It was named as EDDIOGRAPH (Model name FE-1 type).
Flaw detection frequency: 5KHz
Detector circuit: Linear(Envelope) detection
Test coil: Self-induction self-comparing method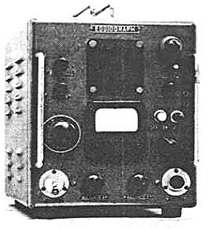 First Eddy Current Tester ever made in Japan
Commercialization of rotary probe type eddy current tester
Development for Rotary type eddy current tester, that suitable to detect liner flaw or small shallow flaw, was started when Akira Saiki planned the model of non-contacting rotary trans and apply it for patent in 1972. At the same time, developed specialized orthogonal crossing coupling type probe, and commercialized rotary type eddy current tester.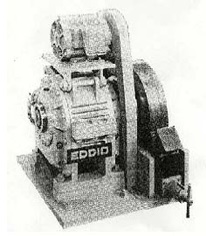 ROTO-B type rotary probe Eddy Current Tester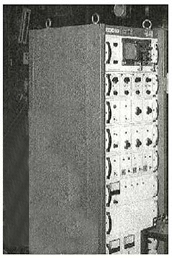 Electronic unit for rotary probe type Eddy Current Tester
Enhance performance of rotary probe type eddy current tester
Rotation speed of rotary probe type eddy current tester, as for ROTO-C for small diameter, speed of first version was 6000 rpm, but accomplished 8000 rpm at 1986. Due to the spread of eddy current probe type eddy current tester, inspecting overall length had become common, and the demand of "Detecting shallower and shorter flaw" from customer was increased. Therefore, we developed and provided customer ROTO-T type which has 12,000 rpm and specialized to small diameter, and improved version of ROTO-2C type which accomplished the world's first 8 probes, 8 channels, and 8,000 rpm (equivalent with 16,000rpm).
Digitalization of flaw detecting electronic unit
Around the year of 2000, there were big progress on digitalization of flaw detecting electronic unit, since computer technologies became possible to be applied to flaw detector. Therefore, flaw detector's usability was improved and the way of utilizing flaw detection data was changed significantly.
Improvement of usability
Operator used to do set up, record, and manage all manually for each operation such as detection sensitivity. However, setting up and recording were automated because of digitalization of flaw detecting electronic unit.
Also, it can easily process statistical analysis such as non-defective product ratio, and defective product ratio, since flaw detection result can be recorded as digital data automatically too.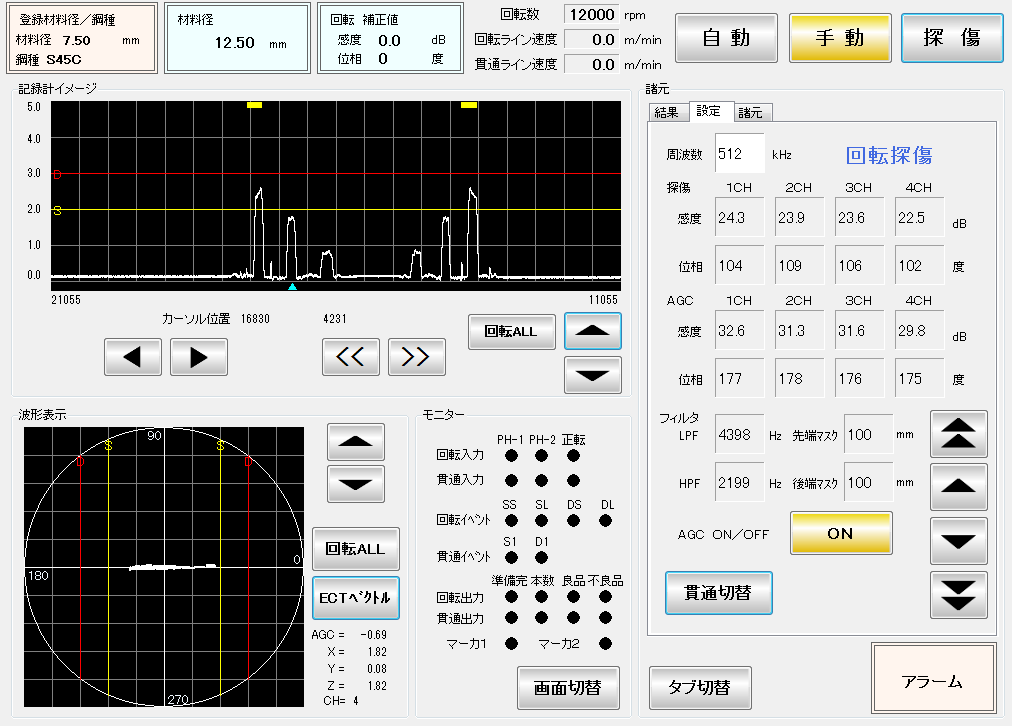 Screen sample of current digital flaw detecting electronic unit
Method of utilizing the data
Flaw detector at an early stage, only can record the detection result on recording paper (chart) However, digitation of flaw detector enables to facilitate the assessment of flaw length, and identifying location of circumferential flaw.
Also, it enables to confirm the flaw detection data recorded in real time after it conducted, and verify the flaw characteristic by reproducing the flaw detection condition Importance of those functions expected to be increased, because they are highly regarded for effectiveness to pursuing the cause of flaw by checking the detail of flaw.
Special use equipment
We have developed ~ productized many equipment・technologies such as flaw detector for hot slab, roll, rail etc. in response to diversification of the needs from customer. We will continue to challenge new technology・equipment along with asking and listening customer's needs.